Vettimes 영국 동물헌혈은행 (Pet Blood Bank) 헌혈견 관련 2017.11.20일자 기사 내용을 아래와 같이 게시합니다. ​
[원문 링크] https://www.vettimes.co.uk/news/springer-is-pet-blood-bank-uks-9000th-donor/
[원문 요약]
제목 : 영국의 동물혈액은행 (Pet Blood Bank)에 9,000번째 동물혈액 기증 반려견 크로스비(Crosby)
2007년에 창립된 영국의 동물혈액은행

(Pet Blood Bank,

이하

PBB)

은

 

혈액기증 제도를 통해 국립혈액은행

(a national canine blood bank)

에 제공하는 영국 내 유일한 자선단체임

.
동물병원을 운영하는 수의사는 혈액 필요 시 국립혈액은행

(a national canine blood bank)

을 통해 활용
2007년에 창립된 영국의 동물혈액은행

(Pet Blood Bank,

이하

PBB)

은 수의사들에게 개의 생명을 구하기 위해 혈액기증 제도를 통해 혈액을 제공하는 영국 내 유일한 자선단체임.

PB

B는

 2016

년

1000

회의 혈액 채취 및

3000

개의 혈액용품을 영국 전역에 보냈음

.
크로스비는

 7

세의

 

사냥개 혈통의 스프링어

 

스패니얼 종류로

, PB

B의

9

천번째

 

반려견 생명을 구하는 헌혈견으로 기록됨
​크로스비와 같은 헌혈견을 통해 수천 마리 개들의 생명을 구했음

.

좀 더 구체적인 정보가 필요하신 분은 관련사이트를 참고하시기 바랍니다

.
Crosby, a seven-year-old springer spaniel from Edenbridge, Kent, has become Pet Blood Bank UK's (PBB) 9,000th life-saving blood donor.
Launched in 2007, PBB is the only charity in the UK that provides a national canine blood bank for veterinary practitioners.
Thousands saved
Through donations, like Crosby's, thousands of dogs' lives have been saved, reinforcing the vital nature of the service.
Similar to the human blood service, dog owners kindly bring along their donor animals to give blood at one of the many collection sessions held across the country. Crosby attended a session with his owner Susie after she found out about PBB and the work it does.
She said: "I saw something on Facebook about PBB and it made me stop and think. I had never given it a second thought – that dogs might need blood – just like humans.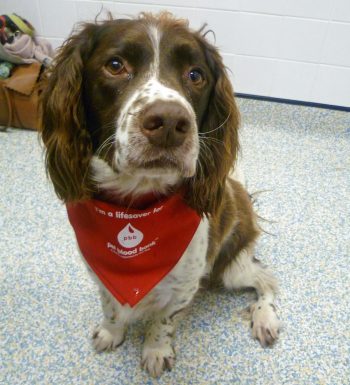 "If Crosby was ever in the situation where he needed a transfusion, I would be devastated if there was no blood available, so I wanted to bring him along to donate and help other dogs who need it."
Pride
She added: "I've been telling everyone how proud I am of Crosby. I'd urge any owners who have dogs that meet the criteria to bring them along if they can because it can make such a difference."
To become a lifesaving donor, dogs must:
have a good temperament
be aged between one and eight years old
weigh more than 25kg
not have travelled abroad
be up to date on all vaccinations
be fit and healthy
To find out more about PBB, visit its website or telephone 01509 232222.